It's getting closer to "liftoff" and the important things, like packing, are basically complete. I've researched our new port of call, Malta, for potential activities/excursions and have identified there is a casino there. Enough said.
And we've looked after things that needed looking after here at home before our departure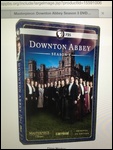 . This has included watching the remainder of Season 3 of Downton Abbey. I'll admit it. We are hooked. We had to finish the third season before leaving. Who could go on holiday wondering if Lady Mary had a girl or a boy? Or if Bates got released from prison? Not us for certain. But it was such an unexpected end to an unbelievable season. I mean really...Sybil AND Matthew! I'm sure we'll be over the devastation by Friday and ready to start our long journey from Saint John to Venice, via Halifax, London Heathrow and Dusseldorf, Germany. The answer to your question...Aeroplan!!!