1. Ziplining should be limited to 12 lines…more than that and it takes 2 weeks for my arm/shoulder to recover.
2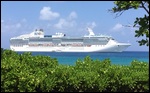 . I can do NOTHING for several days in a row and not be bored.
3. The hotter the day the less energy I can drum up.
4. It's a good thing they only weigh your LUGGAGE at the airport, especially after 18 days on a cruise ship.
And perhaps THE most important…
5. There are MANY annoying people on a cruise ship…and they aren't ALL OLD!!!
Till next trip!!