Wow! I've been truly amazed for the second time today. Billy Crystal was phenomenal tonight in 700 Sundays. It was funny. No, change that. It was hilarious. It was moving. It was poignant. It was sad. And we left with a whole new admiration for Billy Crystal, the comedian, and Billy Crystal the person. We even felt his show was personalized just for us when he incorporated a comment about the mayor of Toronto.
And talk about value for your dollar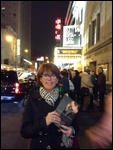 . The show lasted over 2.5 hours, including a 15 minute intermission and, perhaps, a few minutes late start.
Tomorrow is going to have a tough time topping today...but just like Billy Crystal's mother told him during a high school basketball game..."give it your best shot"...and we will!