Can you believe it, Fay? The calendar has finally worked its way around to the time for us to stop anticipating, and start doing. One last chore this morning was to contact Air Canada and change my seat. I am an "Altitude 25K" member (la de da) and as such, I have advanced access to seats closer to the front of the plane. For some reason, I couldn't access these vacant seats from rows 18 to 30 on line, so had to call in to get my "back of the bus" situation improved upon. And with that Altitude 25K card, comes a special phone number which is only for the use of fellow Altitude customers. The benefit of this is that you rarely get sick of listening to the canned muzak on the other end of the phone line in between being told that they are experiencing a higher than normal call volume. My call was answered in less than a minute, my seat changes made, and off I went, all tolled, less than 5 minutes of my valuable time. With privilege comes great responsibility, though. Nah, I'm just joshin' ya...no responsibility...no give, just all take! If only I can maintain that status next year...
Now why do I insist on being in the front of the plane, you ask? Legitimate question and the answer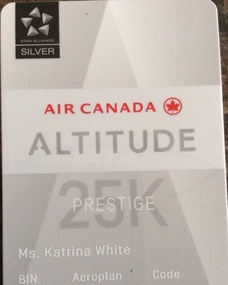 ...well quite obvious, I think. You arrive quicker. Now I know what you're saying, "the plane arrives when it arrives and everyone on it gets there at the same time". Fair point, I say, however....did you ever notice how slow some people are in gathering up their personal belongings, and disembarking the plane? Especially those that have quite obviously pushed the limits on the size and number of their carry-on bags. They've got some stored in the overhead either five rows in front of, or worse, five rows behind where they are sitting and it takes them some time to gather it all up...and they typically block all other passengers from exiting during the gathering process. And of course, there are those people...and I'll admit, they are usually women, who have these rather large and obviously heavy carry-ons which they require assistance from to both get into and out of the overhead, thus holding up the flow of passengers entering and exiting the plane. So, when I say I want to be in the front of the economy section of the plane, I really do arrive ahead of everyone else. I have fewer slow people in my way preventing me from a quick exit. And with my one phone call this morning, I now have only 2 rows of potentially slow people in front of me when we touch down at Heathrow. I, with my one small carry-on, stored UNDER my seat, will be up and moving as soon as that seat belt sign is turned off! As the old saying goes "lead, follow, or get out of the way"!!