Now arrived in Vancouver first stop was to Gastown and the Steamclock. This was easy to find a block or two east of Waterfront Station. There was older brick architecture and cobbled paving in the oldest and historical part of the city.
Crowds were gathered by the steamclock which blows every 15 mins. I then planned on walking a few blocks to Chinatown. What hit me was a big surprise!!!
The street was full of drunks or drug addicts just passed out on the sidewalk or pushing their shopping carts. I heard Vancouver had a bit of a drug problem but didnt know it was to this extent and pushing into the heart of the tourist district. This was such a huge change from scenic Victoria I'd just left in such a short time.
Chinatown was more historical but a bit quiet of any activity or tourists. Maybe the sketchy neighbourhood deterred people.
There was a plaza with a Chinese Community Centre where the hop-on hop-off bus picked up some German tourists. I guessed they didnt dare to venture any further.
The community centre has a small museum upstairs with a voluntary donation for entrance.
It had interesting cultural exhibits and the people were curious who I was as maybe many visitors dont come upstairs. Behind was the Sun Yat Sen Memorial Park.
I thought this would be an ordinary lawn park with some Chinese monument but it was done in very traditional Chinese style with lotus pond and pagodas. It reminded me of the Yu Gardens in Shanghai.
I tried to get round to the other side of the park but there was an entrance where you had to pay admission. They said this was a museum and scholars house separate from the park. Entrance was $14 and I could join the guided tour which just begun.
This section is run by a private society and is separate from the city park that the public has access to. All the materials and workers came from China to make it as authentic as possible.
Originally this was meant to be a road but they decided to make a park to complement the Sun Yat Sen gardens beside. As a gesture to the city the society built the main pagoda in the public park.
The main hall can be rented for private events such as weddings. Usual to my travels, this was an unexpected surprise to stumble onto these private gardens and museum next to the city park. Having spent so much time in Asia it was a delightful introduction to Vancouver's Asian character.
Once outside it became very awkward again with people coming up to ask for money when I was trying to take pics of the Chinatown Gate. I tried to move quickly out of this area and opted not to look for food here.
Back in the financial heart was Canada Place and a waterfront biking trail I can use later. Walking along the water was the Sea Port and noise from planes taking off and landing. I'd looked at places to stay here and near Chinatown.
Nobody ever told me how noisy the sea planes were and much louder than jet engine planes. For the most expensive real estate in Vancouver the noise was too much for me as I like quiet places to stay or live.
I'm so glad I didnt choose to stay here. The places I was looking at were out of my budget anyway and never mentioned any noise disturbance! Toronto Island Airport is whisper silent in comparison.
I passed thru Coal Harbour looking for the place I was staying. This was another airbnb apartment which in itself was an experience.
Five people had 'rejected' me on airbnb!!! Why, was I scary looking, did I not have a nice profile and pics, did I not have a good review from my host in Quebec City, did he not say I left the place very clean??!
One guy waited 24 hours for my reservation request to expire rather than decline me, tying up my credit card from making another booking, while another instantly rejected me within a minute of sending my booking request. Another person changed her status to 'declined' simply for asking a question what side her building was facing! Whats up with people in Vancouver??! If you're that picky dont list your properties on airbnb!
The person I did book with had two properties under two different profile IDs. After being 'rejected' by five people on airbnb I was getting a bit desperate so booked her first listing which was a bit 'ghetto' from the inside.
Then I found her other listing so wanted to change but they were under two separate profiles. Airbnb charges for the full booking up front so it was a process involving customer service to credit back the first booking after I booked the second property.
I guess that rubbed the person the wrong way so now she will not leave me a review even though I left her a decent review for her property and she created the situation by having two listings on two separate IDs. I wont be using airbnb again in Vancouver after this whole experience. Some people are so up themselves. My Asian friend who lived in Vancouver for three years agrees.
I needed food as usual and this was a little Koreatown on Robson so I got an O-deng (fish cake) U-don (noodle) even though I was in the mood for haemul (seafood) udon (noodle) which they didnt serve. I chatted of course the whole time in Korean which totally threw them off as unexpected!.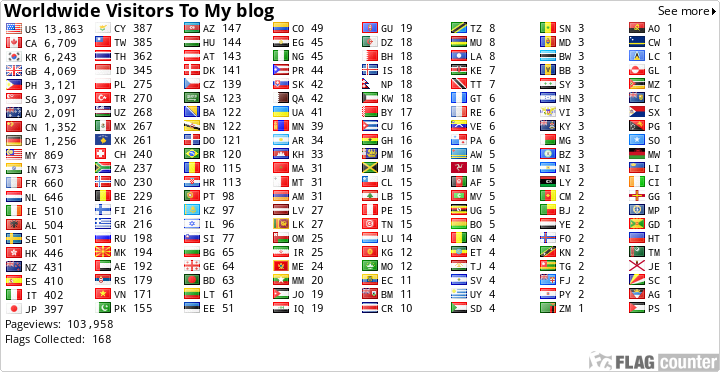 Visit My Page on Facebook :
Departures1 - Global Adventures